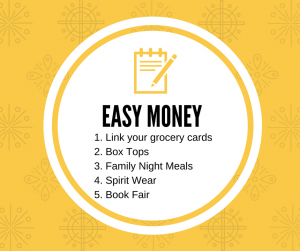 Not everyone can commit volunteer time but there are some easy ways you can still contribute to Roland Grise through:
Re-Link your Harris Teeter, Publix, Lowes, Target, Office Depot cards. Every time you shop the PTSO will get a portion of your sale! And YES, you can link multiple schools!!!
Clip Box Tops from your food containers. It only takes a couple minutes. Keep them in a baggie or drawer and send them in monthly or whenever you can.

 

Save yourself a night of making dinner and head out to our Family Nights at local restaurants where they donate a portion of sales to our PTSO.
Attend our Book Fair in the fall or spring or send some money with your student.
Make the Myrtle Grove kids jealous by decking out our kid in some awesome new Roland Grise Spirt Wear!