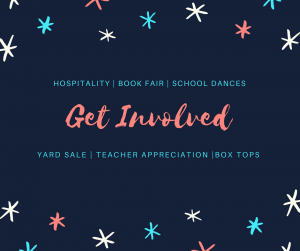 Would you like to get involved with the PTSO? We would love to have you. We would love to get you involved with any/all of the following activities:
Hospitality Events for Teachers/ Staff (donations or volunteers)
Book Fair
Dance (donations or volunteers)

 

Yard Sale (donations or volunteers)
Let us know what you are interested in: https://goo.gl/forms/g5xzmbhX8qWNEuH02 
OR
Find your interest below and make contact with the board member.
6th Grade Activities – Kim Badrock – kbadrock@gmail.com
7th Grade Activities – Shelly Blanchard – skstathop@yahoo.com
8th Grade Activities/ 8th Grade Dance – Claudia Buer – Buerbabe1@yahoo.com
School Dances – Tara Geib – tarageib2013@gmail.com
Teacher Appreciation/Hospitality – Amy Cantrill – AJBNFLT@yahoo.com
Book Fair – Amy Stuck – abstuck@hotmail.com
Apparel – Liz Cromer – lizcromer03@yahoo.com
Electronic Fundraising – Cori Nevruz – corinevruz@gmail.com
General Volunteering – Cassie Howell – cj.howell98@yahoo.com
Thank you for supporting RGMS!