Our Mission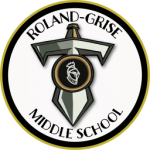 To enhance and enrich the educational environment at RGMS by supporting social, extracurricular and academic needs of the students and staff
To nurture the environment at RGMS by promoting parent/guardian involvement through communication, volunteering and dialogue with school staff.
To provide support and service to students, families, educators and our community to promote a spirit of caring, good citizenship and respect for others.
PTSO v. PTA… What's the Difference?
PTA is a large organization that a lot of schools join. Membership fees get paid to the organization and only part of that money comes back to the school. At Roland Grise, we have a PTSO where the Parents, Teachers and Students make the decisions and 100% of membership money goes directly to the school. The money is used for, but not limited to:
School Events (Dances, Grade Level Socials)
Books

 (for library, guidance and classroom use)

Teacher Grants (which can be used to send our teachers to conferences, get classroom supplies, buy equipment)
Academic Enhancements (Science Olympiad, Competition Registrations)
Awards (Grade Level recognitions and awards)
Hospitality and Teacher Appreciation Events for our wonderful staff
So don't just sign up and think your money is going to a large organization rather than our school. Sign up yourself, your spouse and your kids and really make a difference at our school. 
Sign Up Here: http://rolandgriseptso.com/membership/