We welcome all Roland Grise parents, guardians, grandparents, staff, teachers, and students to join the PTSO!
Join the PTSO today with your donation to the Knights Annual Fund.
Feel free to make a donation in any amount. No amount is too small (or too big if you're feeling extra generous).
Your donation will help with PTSO-sponsored events such as school dances, grade-level socials, staff hospitality events, school needs, field trips, and more. Throughout the year, there will be volunteer opportunities where you can make a supply donation for a staff hospitality event, school store, or concession stand or volunteer your time. Don't forget to join our mailing list to keep updated on all we are doing with your donations.
Feel free to follow us on social media for the latest updates!
Our Mission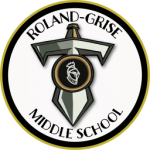 To enhance and enrich the educational environment at RGMS by supporting social, extracurricular and academic needs of the students and staff
To nurture the environment at RGMS by promoting parent/guardian involvement through communication, volunteering and dialogue with school staff.
To provide support and service to students, families, educators and our community to promote a spirit of caring, good citizenship and respect for others.
Feel free to contact me with questions.
Roland Grise PTSO President
Cori Nevruz